Injection Molding Electronic Component from Polycarbonate Resin.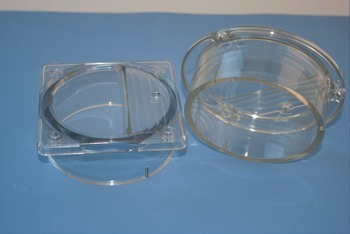 Veejay plastic injection molding company was approached by a client in the electric and electronic company to create a specialized thermoplastic component. The component had to be designed with a certain amount of strength and stability for material holding. The component also needed to have a stable base and thick wall form so there would be no material spillage or leakage.
The engineering team at Veejay plastic chose polycarbonate resin as the manufacturing material, as it has high impact resistance over a varied temperature range. At the same time, tight radius and diameter could be achieved with minimal heat.
The component was designed as a circular dish with a flat base. The wall of the dish was injection molded with a high-level of thickness, which prevented any sink marks from taking place. The component was transparent as a result of the use of clear polycarbonate resin.